slide-img1
Welcome to the Area Agency on Aging of East Alabama
The Area Agency on Aging (AAA) is designated by the state of Alabama to
develop and administer an Area Plan providing a comprehensive and coordinated
service delivery system for older Alabamians in th 10 country service area...
Welcome to the Area Agency on Aging of East Alabama
East Alabama Regional Planning & Development Commission
The East Alabama Regional Planning and Development Commission (EARPDC) is a multi-purpose public agency providing a wide range of services to member governments within the ten-county service area and to the residents of the region.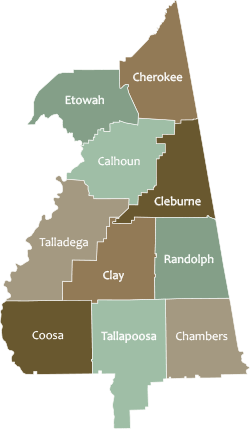 There are many aging and disability resources available in each of the 10 counties located in our service area.
Click on the map to the left to find aging & disability resources specific to your county.
Sign up for our E-Newsletter!