MAYDAY SENIOR CELEBRATION
Older Americans Month was established in 1963 by President John F. Kennedy.  Each year, the President of the United States issues a proclamation slating the month of May as Older Americans Month.  This proclamation best sums up our celebration:

"During Older Americans Month, we pay tribute to our Senior Citizens for the many ways they strengthen our Nation.  Our country is blessed by their compassionate acts, the wisdom of their experiences, and the patriotism they demonstrate."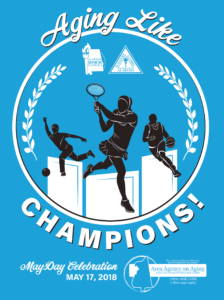 Our Agency celebrates Senior Citizens with our MayDay Senior Celebration.  There will be several different vendors set-up to educate Seniors on the services they provide.  If you would like to be a Vendor for this event, click here for more details.
Past MayDay Celebrations
If you would like to see pictures from some of our MayDay Events, click here .  If you would only like to see pictures of some of the Winners from our MayDay competitions, click here.